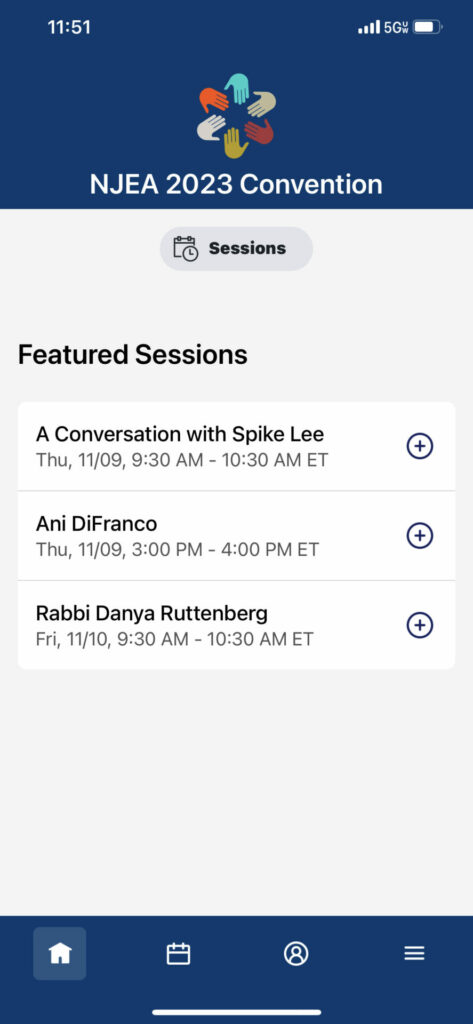 With the mobile app, you can:
Browse the full schedule of workshops, exhibits, meetings and sessions.
View and modify your personal agenda instantaneously.
Find the room location of in-person workshops.
View information about our exhibitors and sponsors. Receive real-time updates for the latest updates.
NOTE: You cannot join virtual meetings from the app, you must join from the Attendee Hub.
Here's how
Download the app below. On the device you're bringing to the event, access the App Store or Google Play Store and search for the "Cvent Events" app. Once you've found the app, download it.
Search for "NJEA". Return to your device's home screen and open the app. Enter the event name in the search bar.
Download the event. Tap the icon to download the event.
Enter your info. If you aren't automatically prompted to log in, tap the Profile tab at the bottom of the screen, then Log in. Enter your first name, last name, and email. Then tap the arrow.
Verify your account. You'll either receive an email and text message containing a verification code or just an email. Read it, then return to the app, enter the code, and tap the arrow.
After entering the verification code, you'll be logged in and taken to the event's Home page, or back to the Profile tab.
Download app